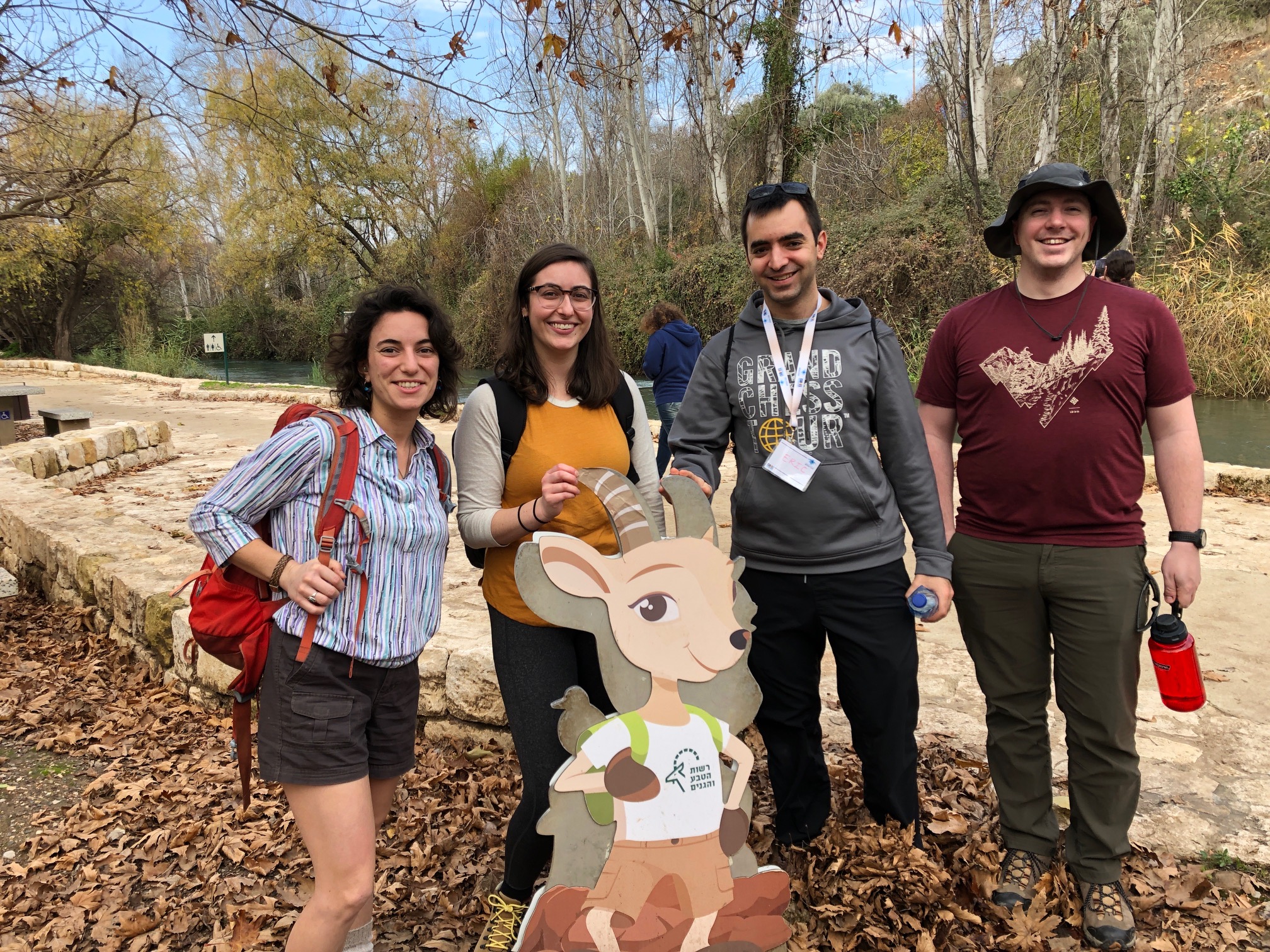 Greetings (or Shalom) from Israel! We just finished our first day of touring and now we're back at our Kibbutz getting ready for dinner, but we wanted to share a little about the trip so far. Even though it's only been a couple days together, it's great to see the connections people are making and hear the conversations floating through the bus.
Yesterday felt like a blur because of the flight to Israel (by way of Brussels), but when we landed in Israel we were greeted at Ben Gurion airport by Adam, our tour educator, with the words "Welcome home." From the airport we headed north towards the Sea of Galilee and, after stopping for a quick dinner, got to the Kibbutz where we are spending the first few nights. We had a few ice breakers to get to know each other and briefly went over our trip's itinerary before closing the evening by sharing with the group things we are nervous about, excited for, and interested in taking away from the trip. Then we went to bed and boy did that sleep feel good.
We woke up bright and early this morning and after a delicious Israeli breakfast (There are so many cheese options…and the dairy here is amazing) we hiked the Banias Path in the Golan Heights, which starts at the former Temple of Pan and ends at a waterfall. The hike was beautiful and because the area got a lot of rain in the last week the waterfalls and the river were very big! You can see a group picture at the waterfall.
Next we headed to Mt. Bental, a former military outpost and overlook of the Syrian border. We learned a bit about 1967's 6-Day War and the current situation in Syria, and started to get a sense of how connected this region is through history, geography, religion, and political alliances.
From Mt. Bental we stopped for lunch where many people got to enjoy their first falafel and shawarama in Israel…many more to come! After lunch we had a special treat: Adam, our tour educator, took us to the kibbutz where he lives (which is just down the road from where we're staying). We got to meet his family and hear a little more about the early Kibbutz movement and the ways the socialist ideals of the kibbutzim impacted the fledgling state of Israel and how the kibbutz has changed over the last 100+ years. Then we enjoyed some fun team-building activities where we got to work together in smaller groups and be a little silly, as well as learn the important lesson that you don't need language to communicate; an excellent message as we travel a country where most of us don't speak the language (though our American staff are helping us to learn, giving us a Hebrew word of the day).
Tonight after dinner we'll have a seminar on history and geopolitics of the region and we'll debrief before going to bed after a very long but exciting day. As you can see, we are trying to make the most of every minute we have here!
Tomorrow we get to rappel in the North and visit the mystical city of Tzfat, one of Israel's four holy cities. Until our next update, l'hitraot (goodbye)!