Hi!
This morning we threw our luggage on the bus and left our hotel early. Bye Tiberius! Today, we head to Jerusalem!
But before that, we stopped in Zippori, just next to Nazareth, to drive some ATVs. Everyone had a blast driving through the town, the woods, and the crop fields. We all got caked in brown dust, but we had a washing station and a leaf blower to take care of it.
2-hour drive later, and we're in the one and only Jerusalem. First, we stopped at an overlook to say shehecheyanu and drink wine (grape juice). Then we dropped off our luggage at Caesar Hotel, our home for the next few days.
Time to visit Mahane Yehuda Market. A shuk just minutes from our hotel. The market streets were full of restaurants, bars, clothing stores, candy shops, and were as bustling as a New York City street.
We go back to check into our hotel rooms before getting ready for Shabbat and visiting the Old City and the Western Wall.
We arrived there by bus. Halfway on our walk through the Old City, we stop to light Shabbat candles, say their blessing, and learn their significance.
We made it to the Western Wall where we had the chance to touch the wall and pray. We ended this holy visit by forming a song and dance circle in the massive stone courtyard. A few people even joined us.
With the sun setting, we walked back to our hotel, the city streets nearly empty of cars. We recited the blessings over the wine and bread at the hotel restaurant before eating dinner.
Earlier at the shuk, each of us bought a small gift that we would give to someone else in our group. It was time to share those gifts for the "Secret Santa" style gift exchange and explain why we got them.
The next morning on Shabbat, our tour guide Gai took us back to the shuk, the market was very different now that everything was closed and empty. We learned how the shuk grew from what was basically a small farmer's market in the 1800s. We roamed, looking at the graffiti art on the shop's closing gates, which included pictures of everything from Moses to Einstein.
After lunch, we met up for a workshop regarding Jewish identity. First, we each shared how we viewed our own personal Jewish and American identities. Then we discussed topics such as our personal connections to Israel and having a Jewish homeland.
After some fun at the hotel's roof pool, we met up for an activity led by our Israeli friends. The topic: Hebrew slang. We started with charades where one of us would act out the English meaning of a Hebrew slang phrase. Passed around Israeli snacks to nosh on while we tried to guess the answer. Then, we went around in a circle doing a sort of "fill in the blank" improv story where the story would continue from one person to the next until we went around in a full circle.
At 8:30, we gathered and found a good spot on Jaffa street to do Havdalah, the end of Shabbat ceremony. We lit a Havdalah candle, held hands in a circle, and sang.
We ended the night at the shuk, the market looking different yet again, now converted to mostly bars for the nighttime.
Imagine a crowd of people singing and dancing to YMCA. I don't think many of us were expecting to do that in the market in Jerusalem.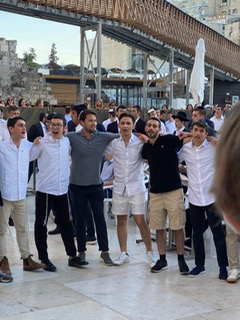 -Randall lupin