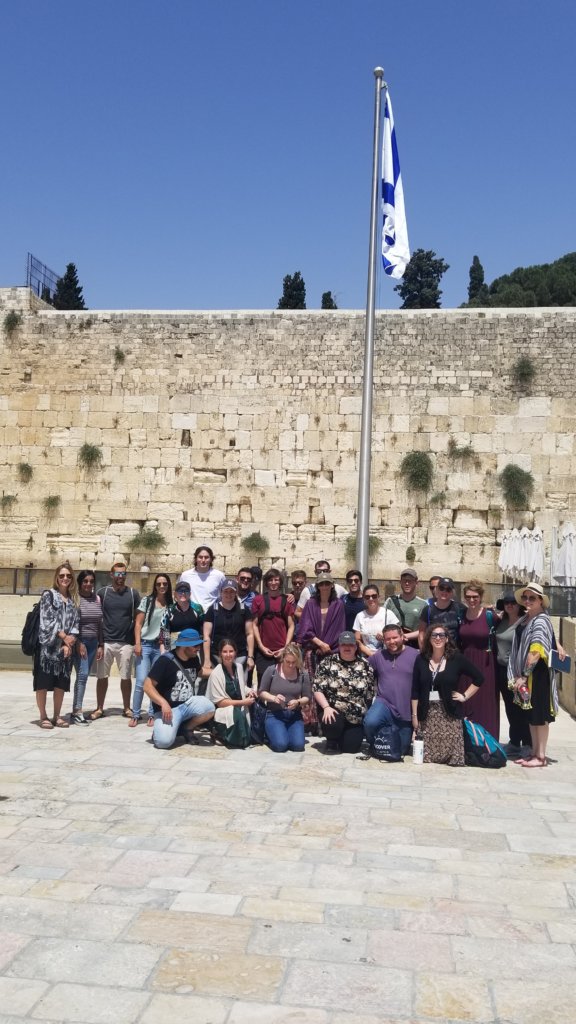 It has been a wild few days. On day 3, the group continued to explore the North by going on a hike through the Banias Falls, with a relaxing rafting trip down the Jordan River. We then took some time on Mount Bental and discussed the relationship between Israel, Syria, and Lebanon. We ended the evening with a beautiful dinner at Simha & Sons.
On Day 4, we went and enjoyed a riders experience on Carmel Mountain. Exploring it a via ATV type vehicles. We then had lunch and spent time exploring Zikhron Ya'akov. We ended the day in Jerusalem meeting the Israeli peers and enjoying  kabbalat shabbat and dinner.
Day 5, was a leisure to observe shabbat. We did some group activities and spent most of the day at the hotel playing board games or at the pool. We then did a short walking tour ending at the Knesset and spending time at the park nearby. We wrapped up the evening with havdalah and the group had a night out.
Day 6,  our first full day in Jerusalem! We woke up and went to the old city. Here we received a tour from Dima, our guide, and explored the Jewish Quarter. We then celebrated the Bar and Bat Mitzvahs of 8 of our participants. After, we went to the Kotel and reflected on our own time. We then drove to Mahane Yehuda market for lunch and free time. Finally we ended the evening with a geopolitical seminar with Iftah Burman and dinner.
Day 7, today was a solemn day full of emotions. Our first stop was Mount Hertzl. Followed by lunch and a tour of Yad Vashem. We then said our goodbyes to our Israeli peers and began our drive to the desert where we heard from a guest Bedouin Female speaker. This activity was followed by a bonfire and games.
Day 8, we had a very early morning in order to hike to the top of Masada during sunrise. Some participants engaged in yoga at the top of the mountain followed by a tour of Masada. After exploring Masada, we fed camels back at the bedouin community. We then spent time floating in the Dead Sea and healing our skin with the restorative mud. We then ate lunch in Arad and drove to Tel Aviv to stay for the night.
Looking forward to our last 2 days!
– Staff members Bari and Jenna