Check out the following update from a group currently in Israel.  Thank you to Jessica Segal for sharing with us.
Shalom from Israel!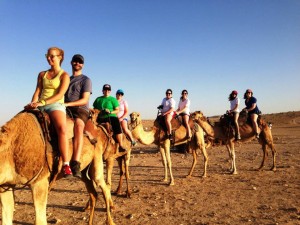 It's hard to believe that the group started off more than 24 hours ago at the Atlanta airport where they met their staff Aliza Kaiman, Jessica Katz and Meredith Lefkoff.   After a short weather delay in Atlanta the group made it to Philly where they had just enough time to grab dinner and make our connecting flight.  After 12 hours they arrived today into Ben Gurion airport.
At Ben Gurion the group was greeted by Shabat, their Israeli guide.  Shabat is one of the best guides in Israel; he has guided over 100 Birthright trips and this is the sixth Atlanta Birthright trip that he is guiding so he is very familiar with our community and our trips.
By the time the group left the airport it was early evening so they headed straight towards a kibbutz, Ma'ale Ha'amisha, in the foothills of Jerusalem.  The group will get to shower, eat dinner and start getting to know each other.
Tomorrow will be their first full day in Israel and their first full day of touring.  They will begin with breakfast and then travel to Rehovot to visit the Ayalon Institute, an underground bullet factory that was operational during the Israeli Independence war.  After the Ayalon Institute, the group will have lunch and then travel to Shvil Hasalat, the Salad Road.  This is a special organic farm in the Negev that grows a variety of fruits and vegetables.  The group will tour the farm and sample the produce!
To end the day, the group will drive towards Masada and stay in Arad, the closest town to Masada.  After dinner and a group activity the group will hopefully go to bed early since Tuesday morning comes with a  4:00 a.m. wake up call so the group can climb Masada and watch the sunrise over the Dead Sea.  Masada will be the longest day of the trip, which will happen when you start your day at 4:00 a.m.  After watching the sunrise the group will tour the ruins on top of Masada, hike the Ein Gedi desert oasis and float in the Dead Sea.
The group will end this long day by travelling further into the Negev to a Bedouin tent where they will enjoy camel rides, Bedouin hospitality and a festive Bedouin meal, a group bonfire with s'mores and finally a night sleeping in a huge tent under the stars as a group.
L'hitraot,
Jessica Segal
Engagement Manager
Jewish Federation of Greater Atlanta