Here at Israel Outdoors we are always interested in finding out more about our participants and learning about the interesting things that they do. Zack K. was just on a free Taglit-Birthright Israel trip with Israel Outdoors this past December, and shares with us his experiences as an adventure guide in Yellowstone/Grand Teton National Parks.  Thanks for sharing Zack!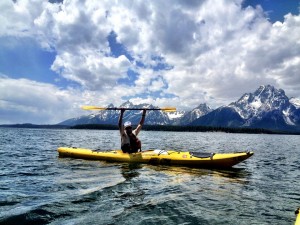 Where are you from?
I was born and raised in Washington D.C.
Where do you live currently?
I currently live in beautiful Bozeman, Montana. ("Big Sky Country" Montana, "The Last Best Place"). I originally moved to Montana because of the amazing skiing and other outdoor opportunities. Montana definitely has the tractor-beam effect on people, once you get a taste you're hooked.
Tell us more about what you do.
I am a professional adventure guide in Yellowstone/Grand Teton National Parks. (Yellowstone is the largest volcano on planet earth in case you were not aware, and in parts of Yellowstone the earths crust is only 3 miles thick. This is why we have the highest concentration of geysers/geo-thermal features on the planet.) I take guests on week long trips exploring the wildlife, volcanic/geo-thermal features (i.e. Old Faithful), and unique mountainous terrain of our nation's first national park. During their time with us, we prepare gourmet meals for our guests, and stay at rustic lodges and other ritzy accommodations. In short, we take the guests to the best locations throughout Yellowstone, take care of all the logistics for them, and take a great deal of pride in the level of customer service we provide.
How did you get involved with this work?
I've always had a strong passion for the outdoors and sharing beautiful places with others. I became a guide after graduating college at Montana State University. My first job was as a wilderness fly-fishing guide on the bear infested Alaskan Peninsula. That involved living in the "Alaskan Bush" for three months straight with no outside contact to world other than a satellite phone and receiving the newspapers from our helicopter pilots when they flew in new guests and supplies.
What is your best story from work?
My best story from work was a standoff with an 800 lb female grizzly bear that I faced from about 15 feet away (not an exaggeration). Scaring off hungry bears was a routine part of my job and happened multiple times a day. This time the grumpy bear almost got the best of me. It wasn't an enjoyable situation but luckily I was able to thwart her attempt to make me lunch.
Why did you decide to go on an Israel Outdoors trip?
I decided to go on a trip with Israel Outdoors because of a client I had on one of my trips through Yellowstone who was a former participant and trip leader with Israel Outdoors. He had nothing but positive things to say about his experience and I decided to listen to his recommendation. If he reads this, thank you for influencing me to go on this trip, it was a truly amazing experience!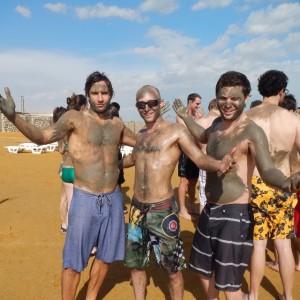 What was your favorite part of your Israel Outdoors trip?
Obviously, it is nearly impossible to chose a favorite part of the trip. All the destinations are significant in their own way, but I think most would agree spending time in Jerusalem and Tel Aviv are at the top. Spending shabbat in Jerusalem was one of the most beautiful/peaceful experiences I've ever had. One unique aspect of our trip was an awesome dance we all learned. Some of our group members who had way better dance moves than I came up with it. At a moments notice all of us could materialize into a "flash mob" and get our groove on, stealing the spotlight pretty much everywhere we went!
How did your Israel Outdoors trip effect you?
Ultimately I had a great time and the adventure is fresh in my mind. I am still currently processing all the meaningful experiences I had with Israel Outdoors, and will discover in time what I have truly taken away from the journey. My fellow trip mates and Israeli counterparts I met along the way absolutely were the life of the trip, I love them all and am thankful they were there to share the Birthright gift with me.