Jackson T. recently returned from a free Birthright Israel, LA Way trip with Israel Outdoors. The following post, written by Jackson, was originally published by the Jewish Federation of Greater Los Angeles.  Thank you to the Federation for allowing us to repost!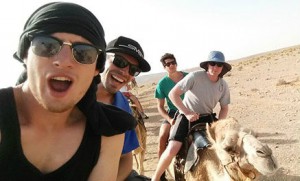 Ten days after graduation I moved out of my college house, said goodbye to my family and my roommates of the past five years, packed my bags, and got on a plane heading to a country I had never been before — Israel, the Holy Land, the Promised Land, the disputed land, the land of war, and the land of milk and honey. I wouldn't return home for 92 days. When I left, I wasn't alone. Waiting at the airport were 39 other Americans, 22 to 27 years old, bags packed, looking nervous and reserved — but all of us had that excited grin peeking out from the corners of our mouths.
You could see it in our eyes. We were pumped to start off our summer with a ten-day trip of a lifetime. Quickly getting shuffled onto the plane, we didn't really get to meet until we touched down in Ben Gurion airport. My taglit — "discovery" in Hebrew — Birthright Israel trip was full of SoCal participants, kids from San Diego and Los Angeles, so the blazing sun that welcomed us as we landed made us feel right at home.
We were hurried onto our bus, met our limited-English speaking bus driver Jimmy, and immediately embarked on our ten-day excursion. A ten-day taste test of Israel, a sampling tour up and down the country, a peek at what the nation has to offer. We experienced the land drenched in cultural and religious history with a unique modern society living on top of it. We walked under the arches of the Roman aqueduct in Caesarea, stayed at a kibbutz in the Galilee, rafted the Jordan river, lounged in the Dead Sea, prayed at the Western Wall, sloshed our way through the ancient underground water tunnels of the City of David, played matkot (a paddle ball game) on the beaches of Tel Aviv, visited hipster bars, and sipped drinks at clubs that shook from the vibrations of bass notes. Life was great, life was happy, Israel was sweet and savory. Read More