Israel Outdoors is proud to have some of the best Israeli tour guides that Israel has to offer. We asked tour guide Itai Amir to tell us a little more about himself.  See below for more information about Itai and don't forget to check out the rest of our fantastic tour guides and our Israel Outdoors team!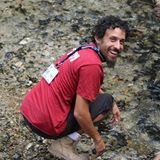 Where are you from?
I am from Herzilia.
Where do you live currently?
I am in the process of moving to the Negev Desert to help develop the land.

What did you do before you became a tour guide?
I was a waiter at a variety of restaurants including Max Brenner, Dalal and Eretz Canaan. I also did a lot of ends while traveling the world. I've visited Switzerland, England, Italy, India, Turkey, Sinai, Thailand, Japan, Australia, Portugal, and many others countries but have not yet made it to the US

How many Israel Outdoors trips have you guided so far?
At least 15.

What was your absolute favorite moment/experience while guiding an Israel Outdoors trip?
When I met my wife. I worked for Australian Birthright and she came to Israel to be a field coordinator. The rest is history!
What is your pet peeve on a trip?
I hate it when participants ask the same questions over and over again without listening to the answers.
Favorite thing to do when not on a trip (Hobbies? Vices? Favorite TV shows? etc.)?
I love spending time with my family, especially with my baby!