Israel Outdoors is proud to have some of the best Israeli tour guides that Israel has to offer. We asked tour guide Erez Landau to tell us a little more about himself. See below for more information about Erez and don't forget to check out the rest of our fantastic tour guides and our Israel Outdoors team!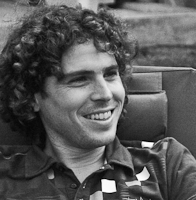 Where are you from?
I was born in Israel in the city of Haifa
Where do you live currently?
Today I live on a Kibbutz called Neve Yam which is 14km south of Haifa and a 1 minute walk from the beach!
What did you do before you became a tour guide?
I was a horse back riding instructor, then a shepherd, then a cowboy. After working with horses, sheep and cows I was more then ready to start working with people as a professional tour guide.
How many Israel Outdoors trips have you guided so far?
It has been so many that I can't remember exactly how many but I think I've guided around 50 trips with Israel Outdoors.
What was your absolute favorite moment/experience while guiding an Israel Outdoors trip?
My favorite moment on a trip was an unbelievable jam session in the Bedouin camp that brought everybody together in a way that made me feel I'm in the Temple again.
Is there a site that you just can't get enough of?
For me its not the site rather its the people and how they perceive the places. Seeing Israel through tourists' eyes is something I never get enough of.
Favorite thing to do when not on a trip (Hobbies? Vices? Favorite TV shows? etc.)?
Spending quality time with family and friends, and going to the beach of my Kibbutz. I love music and dancing and watching TED talks. Basically everything which is FullPower!
Erez is coming the the US!! Want to catch up with the tour guide from your Israel Outdoors group or see this fantastic guide in action?  Erez will be in the US leading a lecture series called The Purpose of Our Time. The Purpose of Our Time addresses the blunt realities of Israel, the political conflict and strife, with hope and lessons that teach growth from conflict.  For dates and more information check out Erez's Facebook page.