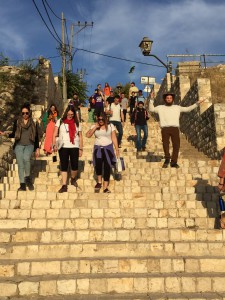 After a few great days in the north, Israel Outdoors' TL-31-288 left Kibbutz Gonen and the Golan Heights. On their drive to Tzfat, they stopped at the Agamon Hula lookout. The Golan Heights was to the left, the Hula Valley straight ahead, and the upper galilee on the right. This valley was formerly filled with water (plus malaria and yellow fever) so in the early 1900s, the Jewish landowners drained the valley using Eucalyptus trees. Now, small portions are flooded to restore the ecosystem and maintain the bird migratory patterns (the Hula Valley is on the Europe-to-Africa bird migratory route, so people come from all over the world to watch it).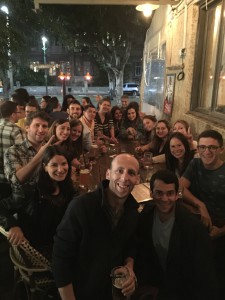 After that, the group arrived in Tzfat  and visited Ascent, a Kabbalistic learning center. They had a discussion about Gilad Shalit and learned about the many books in Judaism (we are "the people of the book"!). Then they visited the Ari synagogue.
In the afternoon, the group went to David Friedman's studio to learn about his artwork. It was pretty mind blowing! After lunch, they explored the Artist Colony.
In the evening, the group enjoyed a night out on Rothschild Boulevard in Tel Aviv. Day 3 was more of a cultural and spiritual journey, and very intellectually stimulating!