Israel Outdoors Aulmna Allie Goldberg just got back from her free Taglit-Birthright Israel trip this past July.  Below she shares her tips for making it through an 11 hour plane ride.
5. Make Friends With Your Neighbor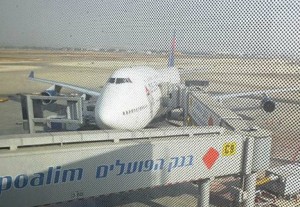 There are many benefits to this, including but not limited to: having someone to pass the time with, getting to know a fellow Israel-bound person, swapping movie (or book) suggestions, not enraging them when you need to visit the restroom for the 45th time, and forming an alliance so one person can sleep while the other keeps an eye out for the food trolley.
4. Prepare Multiple Forms of Entertainment.
The flight will most likely have a variety of movies and TV shows to chose from, but unless you have a movie tolerance that can rival Roger Ebert's, they will not be a sustainable source of sanity.  Look into bringing books, magazines, school work, a journal, or some travel-sized hobby as well.  Just make sure that whatever you bring is lightweight and not easily destroyed by being shoved into carry-on luggage!
3. Pack Some Snacks
Even if you don't mind the vaguely palatable plane fare, you will quickly realize that the meals are never quite satisfying enough.  Snacks will definitely help stave off crankiness, just beware of protein bars (which somehow magically turn into lead bricks upon reaching the tummy) and garlic-flavored anything (remember what I said about #5).  Also, by mastering #5, you might even have someone to swap snacks with!
2. Dramamine
Consider bringing Dramamine even if you don't normally get airsick.  Not only will you have it in the event of unanticipated queasiness (yours or your neighbor's), but taking it will make you very, very drowsy.  And as anyone who is bolted upright in a confined space with continually recycled air knows, falling asleep is both an art and a blessing.
1. Remember Where You're Going!
When the newborn 3 rows up won't stop crying and the malodorous fumes from 4 seats to the left just won't dissipate, stay calm and keep it all in perspective: you're about to partake of an AMAZING ten days.  The crick in your neck and the drain on your patience will all be entirely worth it in the end!
Nesi'a tova … Bon Voyage!!!!