Israel Outdoors Aulmna Allie Goldberg just got back from her free Taglit-Birthright Israel trip this past July.  Below she shares the food you should not miss out on while in Israel. Thank you Keith Weiner for the photo.

In case you haven't already heard — you are about to eat more hummus, falafel, shawarma, and hummus (yes, that's listed twice, by design) than you could ever imagine in a 10-day span.  Owing to the tremendous amount of physical activity you will do each day, as well as to the extraordinary lusciousness of Israeli chickpeas, you probably won't get sick of those dishes, either.  Nevertheless, Israel has many other delectables you must try while you're there.  Here are my top five suggestions:
1.  Tea and Coffee From the Shuk   
Forget Twinings and Peet's — once you try Israeli tea or coffee, all future beverages will pale by comparison.  The teas, infusions, and coffees are so fresh and unique, it's hard to pick out the most special.  I opted for the ginger green tea, and some friends got coffee mixed with ground cardamom.  Needless to say, we were all very happy with our purchases!
2.  All the foods you loved back home — especially olives, dates, figs, and dairy products
I don't know how, but trust me when I say they're so much better in Israel.  
3.  Prickly Pears (Cactus Fruit)
They don't look palatable, let alone digestible, but fortunately they're both!  They are very sweet and juicy — sort of like a pear mixed with a persimmon — and are well worth the stickiness that ensues afterwards.  As an added bonus, they have a lot of Vitamin C!  Just be sure to spit out the seeds — our Israeli friends advised us that they aren't exactly gentle on the stomach.
4.  Halva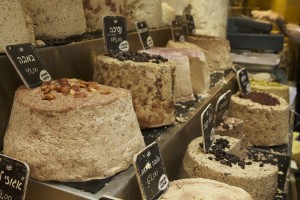 I found this dessert by a happy accident at dinner one night.  It's dense, flaky, lightly sweetened, and certainly unlike any confection you'll find in America.  The type I tried was nut-based, but they come with other flavorings and additions, too.  I wouldn't go so far as to say it was one of my favorite treats, but I distinctly remember it being interesting and worth the taste test.
5.  Bamba
Take an already excellent snack food (cheese curls) and make them better: hold the cheese, and add peanut butter.  They're crispy, sweet, savory, cheap, and shareable — perfect for those long bus rides in between hikes.
Bete'avon… bon appetit!!