Did you know that Israel Outdoors offers long term programming in Israel in addition to the 10 day program?  Our Israel Pathways program is a MASA funded program that allows you to continue your journey on a highly subsidized program designed for ages 21-30. Israel Pathways offers a number of different program options for varying lengths of time. Allow us to tell you more about one of these programs, Israel Teaching Fellows.
Israel Teaching Fellows spend ten months teaching English to Israeli school students alongside Israeli teachers. Israel Pathways offers teaching fellowships in Netanya, a beachside community on Israel's Mediterranean Coast, Be'er Sheva, the heart of Israel's Negev Desert, or Beit She'an, located in the  Galilee.
Meet Blake and Hal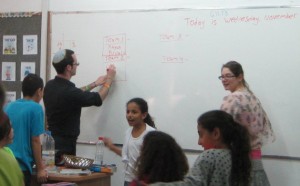 Blake and Hal are both teaching in a middle school located in our Be'er Sheva site. Both hailing from various parts of New York State, Blake and Hal work as a team while pulling students from their regular English class. Both appreciate the pedagogical support that they and the rest of their Be'er Sheva Teaching Fellows receive from Achva Academic College.
Blake and Hal never met before the trip but that hasn't stopped them from hitting the ground running. They both are bringing their individual strengths and backgrounds to work on special projects for their school. Blake has a background in education while Hal has some theater experience under his belt. Together with their Israeli supervising teacher, they are working on an English Day, where all sorts of subjects will be taught in English.  They are also working on an all English performance of The Wizard of Oz. The show opens in late March and we can't wait to hear how it goes!
Meet Ben and Sarah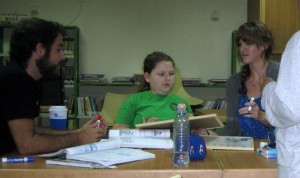 Ben and Sarah are also located in Be'er Shevah, teaching at an elementary school.  Ben is from the New York Area. Sarah is from Southern California and says that the Be'er Sheva desert climate reminds her of home. Together they've been planning a series of lessons in English on the topic of recycling and sustainability, a hot topic in Be'er Sheva. 
"I love being in Be'er Sheva" says Ben.  "We're right near Ben Gurion University so we're basically living in a college town.  The Teaching Fellows apartments are located in the heart of it all, right near Ben Gurion University, restaurants, bars and other nightlife. Sarah loves the location of Be'er Sheva. "The bus to Tel Aviv only takes an hour and this past weekend I went running in the desert!"
Thank you Blake, Hal, Ben and Sarah for sharing your experiences with us.  For more information about Israel Teaching Fellows check out www.israelpathways.com.