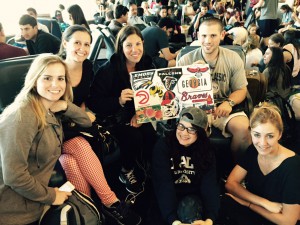 Shalom from Israel!   It's hard to believe that the group started off almost 24 hours ago at JFK airport where they met their group leaders Lauren Light and Shira Rothman.  After a short delay in New York, the group made it to Tel Aviv around 1 pm Israel time (6 am our time).
This group is very special as it's primarily participants from the Greater Atlanta area and the Southeast.
At Ben Gurion the group was greeted by Yaacov Shabat, their Israeli guide.  Shabat is one of the best guides in Israel; he has guided over 100 Birthright trips and this is the eighth Atlanta Birthright trip that he is guiding so he is very familiar with our community and our trips.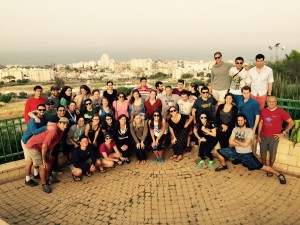 By the time the group left the airport it was mid afternoon.  They headed immediately to the North of Israel, making a stop for a beautiful view and welcome ceremony in Tiberias.  The group will be staying in Tiberias for tonight and their first Shabbat, one of the oldest cities in Israel.
Tomorrow will be their first full day in Israel and their first full day of touring.  They will begin with breakfast and then travel to Tzfat, the ancient city of Kabbalah or mysticism.  This is a beautiful city full of artists (and a great place for them to shop for gifts to bring home for Mom and Dad).
The group will also have their first hike in the North and then head back to Tiberias for Shabbat.
Shabbat (the day, not the guide) is a perfect time to fight off the jet lag, get to know their new friends on the bus and experience Tiberias through hot springs, the local boardwalk and more.
Sunday will be their first full day of touring.  They will do a beautiful hike in the North and spend the afternoon in Yokneam , Atlanta Federation's partnership region in Israel.  The group will visit a local school, Daliot, where Federation funds programs to help students, many from immigrant parents, succeed in school.  Yokneam is always a meaningful experience for the group as they get to interact with local youth and see the impact that Federation is making in the region.
After Yokneam, the group will head south towards Tel Aviv where they will enjoy a group night out on the town!