Thank you to group leader Shoshana Akabas for sharing the following update from Israel Outdoors Bus 132:
Dear Family and Friends,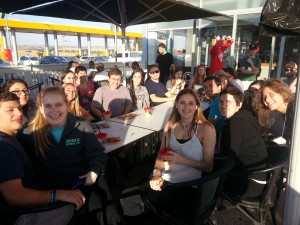 After a long day of traveling, we've arrived in Israel!! We spent time on our layover getting to know each other, finding out what we have in common, and learning each other's names. We also read and discussed a Yehudah Amichai poem while waiting at the gate in Vienna that made us consider what kind of tourists we want to be.
Once in Israel, a little tired and jet lagged, we were soon re-energized by meeting our enthusiastic guide, Yonatan, our bus driver, Ronen, and our guard/medic, Noa. They're a wonderful group that will make sure we stay safe and have an awesome time.
On the bus we started listening to some Israeli music as we drove south to the Negev (desert). We stopped on the way at Aroma (the best Israeli coffee place) to grab some snacks and ice coffee, and now we're on our way to our hotel in Arad.
More soon!
Shoshana, Josh & Bus 132