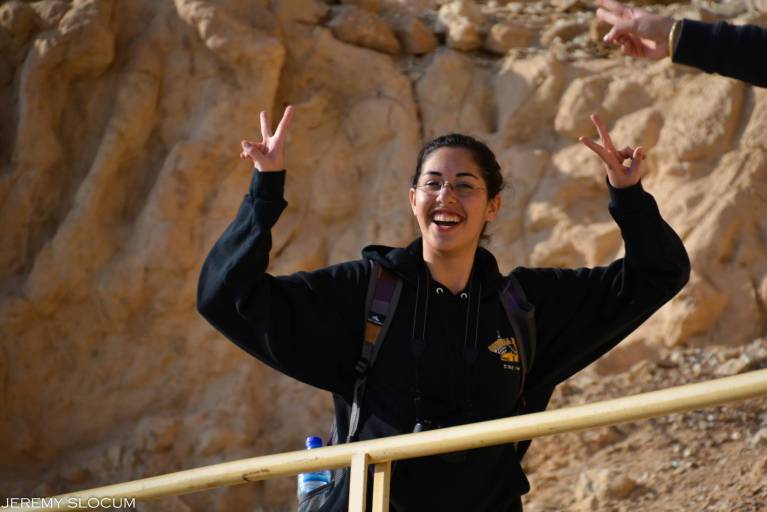 Ilana W. traveled on a free Taglit-Birthright Israel trip with Israel Outdoors in January of 2014.  Ilana wrote the following blog post reflecting on her trip to mark her one year anniversary of her trip.  Thanks for sharing Ilana!
I wasn't going to let the month slip away without recognizing that January 2015 marks the one year anniversary of my trip to Israel. If you had asked me about doing the trip any time before last fall, I honestly always thought Israel was just going to be one of those places I never made it to. When registration opened in the fall of 2013, I blindly registered for a spot on the coveted trip, expecting nothing of it. About four weeks later, I had a plane ticket to Israel.
I traveled right after the start of 2014 with the Taglit-Birthright Israel program, which is a program that brings students between the ages of 18-26 to this small but incredibly beautiful country for FREE!
My trip was a mixed group of 40 students from universities all over the United States, and I signed up all alone. The trip is only 10 days, but you cover literally the entire country (the entire country is approximately the size of the state of New Jersey, and it only takes a few hours to drive from the northern-most point to the south) We saw everything from bustling cities to serene deserts, holy sites to insane clubs. It was definitely one of the most jam-packed trips I've ever done. I had some experiences I just can't have anywhere else in the world, and I met so many incredible people! Here's some highlights (with pictures, of course!): Read More