Here at Israel Outdoors we love to hear about what our alumni are up to. Daniel A. participated in a free Birthright Israel trip with Israel Outdoors this past December. He also is a former professional football player.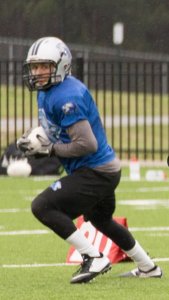 Where are you from?
I was born in Alameda, CA, and grew up in Pleasant Hill, CA. I currently live in Oakland.

What do you do for a living?
I substitute teach while I go to school full time for an MBA

How long have you been playing football?
I started playing in 4th grade when I was 9 because my brother played, so I thought it was cool. Basketball was my first love..

Tell us about some of your football accomplishment.
I was first team all-conference freshman and sophomore year of junior college at Diablo Valley College in Pleasant Hill.
A game I am proud of was my sophomore year at DVC against Los Medanos College, I had 13 catches for 240 yards, 2 TDs, and 100 kick return yards. We won 47-44, I was sore the next day.
I received a full scholarship to several schools, eventually choosing Northern Arizona University in Flagstaff
I played for the Frankfurt Universe in Frankfurt, Germany, breaking a single season TD record with 16 in 12 games.
I made a pro roster in America when I played with the Columbus Lions of the PIFL in Columbus, GA, I caught 7 passes for 60 yards and a TD my first and only start.
What is your favorite football related story?
This is a tough question and I definitely do not have one single favorite memory but beating Clayton Valley Week 1 of my senior year in High school is high up there, mostly because the way we did it, coming back from 16 points with 6 minutes left. It was an epic victory for our school. I have many incredible football stories that I cherish from different teams, places, levels, teammates, and coaches I have been extremely fortunate to be apart of.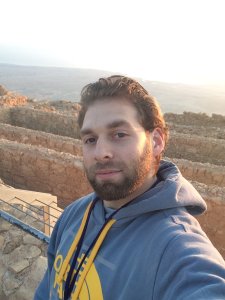 Why did you decide to go on an Israel Outdoors trip?
I knew about the trip from my aunt. She always told me I should go, I was always too busy with sports and couldn't afford to get away from my training regimenet but I always knew in the back of my mind I was going to go. I ultimately went to see the place that I heard about my whole life.

What was your favorite part of your Israel Outdoors Trip?
I'd have to say walking through the Old city of Jerusalem was incredible, I felt like we went back in time. Another favorite memory of mine was meeting people from all walks of life, and experiencing that journey with complete strangers in turn creating awesome bonds with people I probably never would have met.
Anything else we should know about you?
I love to cook, food is my second passion. Whether it is a meal that took 6 hours to cook or biting into an apple, I appreciate food very much and especially enjoy eating with good company.