Here at Israel Outdoors we love to hear about what our alumni are up to. Matt F. participated in a Birthright trip with Israel Outdoors this past fall. He's an engineer at the greatest place on earth!
Where are you from?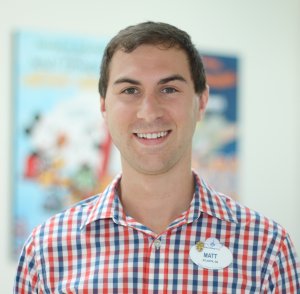 Tough question to answer. I was born in New York, then moved to Vermont for middle school, Georgia for high school and college, and now my job brought me to Florida! So all over, I don't really claim one place.
Where do you live currently?
Downtown Orlando, but I suppose Disney World is like my second home.
What exactly do you do at Disney World?
I am an industrial engineer for Walt Disney World, which basically means I function as an internal consultant. Currently, I work with attraction efficiency for Disney's Hollywood Studios. It is difficult to describe what a typical day is like because our work can be very project based and you never know what may pop up! In general, I will work with my operation partners to ensure that as many guests as possible are experiencing our attractions, and provide analytical backing to inform operational insights.
Why did you decide to work at Disney World?
It was twofold; I knew working for Disney World would be a career I am truly passionate about. There are not many jobs where you can walk out of your office and directly see the product you are creating. As corny as it sounds, this place makes life-long memories for millions upon millions of families, and I wanted to be a part of that. Secondly, I am a strong believer that, at a macro level, everything happens for a reason. I was fortunate enough to receive a job offer here upon graduating from Georgia Tech; I couldn't imagine a better first job!
What is your favorite work related story?
That's a tough one! I don't have one particular story. The industrial engineering department has many great team building activities such as our annual Olympics (which is like a field day), scavenger hunts through the park, volunteering events, diversity luncheons, and many more. But I have to say the best part of my job is going out into the park and interacting with our guests. Whether it is talking about the new Star Wars movie, showing them where the nearest restroom is, or giving them a Fastpass to ride that one attraction they have been dying to do all day, it is all about trying to provide the best vacation experience possible.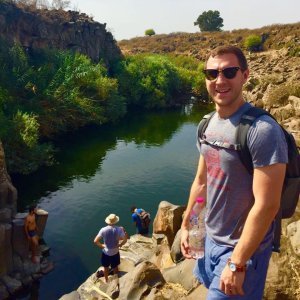 Why did you decide to go on an Israel Outdoors trip?
I decided to go on birthright with Israel Outdoors because I knew it would be a once in a lifetime experience. Israel is a beautiful country, whether it be in the mountains, desert, or cities, but I didn't think I could experience it all without the infrastructure of an organized program. I am especially glad I chose Israel Outdoors because my favorite parts were by far the hikes. Not only did I hit all the highlights of the country, I also did it with some pretty great people (the other participants, our facilitators, our tour guide, our security guards).
What was your favorite part of your Israel Outdoors Trip?
Hiking up Masada and then floating in the Dead Sea was probably my favorite day of the trip, but I think my favorite story of the trip was the night we arrived at our hotel in the outskirts of Jerusalem. Fun fact about Israel is that there are stray cats everywhere, but they are adorable and extremely friendly. We had a beautiful view of the city lit up at night, so I decided to set my tripod up, open the window, and take some pictures. All of a sudden there is a cat meowing right next to me, which I thought was odd because we were stayed on the third floor and I have no idea how he got up there. As I am taking pictures he jumps in our room and starts cozying up with us. Our Israeli friend picks him up, opens the door, and places him in the hallway (as if that will solve the problem). My American roommate then goes into the hallway to grab him and take him completely out of the hotel, but this cat somehow came back to the ledge of our window again the next night.
Anything else we should know about you?
Come to Disney World, it is a magical place!