See below for an update from staff an participants on Group TL-31-234.  Thank you staff Leora and Ari for sharing!
Shalom from Israel! Yesterday we spent the day in Jerusalem visiting Yad Vashem, the Holocaust Memorial and Museum and Har Herzl, Israel's national cemetery. It was an incredibly powerful day as we learned about the history of our people and the sacrifices that so many people made in order for us to be here in Israel today. We concluded our time in Jerusalem and headed north to the Sea of Galilee.
-Leora and Ari (Trip Staff)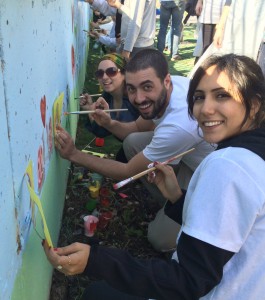 Today our group traveled to Beit She'an, Cleveland's sister city in Israel. We started our day at Gilboa School, where we played with the children during recess and painted a mural on one of the school walls with flowers. We also met amazing people our age who are teaching English in the city through the Masa Israel Teaching Fellows program. They introduced us to the kids they teach every day and served as our guides through the city's archaeological park with the most amazing, untouched Roman ruins. The group's highlight was eating ethnic food in the homes of amazing Beit She'an women, Etti, Sarah, and Batzion, each of whom immigrated from other countries in the Middle East and have made the city their home. The warmth we felt in Beit She'an reminded us of being home in Cleveland. We were one of the lucky Birthright trips to visit our city's sister city.  With our stomachs full, we traveled back to Tiberias, where we will stay the night.  There, we finished our day relaxing at the city's hot springs. Each day here is truly a gift and the people of Beit She'an gave us a truly amazing day.
-Maddie Weiner (Participant)