Here at Israel Outdoors we are always interested in finding out more about our participants and learning about the interesting things that they do. David Silberstein was just on a free Taglit-Birthright Israel trip with Israel Outdoors this past December, and tells us about a non-profit organization that he and a few friends created called The Get Well Soon Tour.  Thanks for sharing David!
Where are you from?
I was born in Northern Virginia.
Where do you live currently?
I currently live in Venice Beach, California
Tell us more about what you do.
I manage songwriters and producers who write and produce songs for other artists
What is The Get Well Soon Tour?
The Get Well Soon Tour brings artists to perform and spend time with sick children at hospitals all over the country. Our goal is to bring happiness to children through music. We have worked with Justin Bieber, Britney Spears, Bruno Mars, Pitbull, Maroon 5, FUN., Mike Posner, Robin Thicke, John Legend, and more!  Learn more!
How did you get involved with this work?
I, along with a few other friends started The Get Well Soon Tour three years ago. Through our various music jobs working with many musicians, managers, and labels we wanted to do something meaningful and fun for sick children
What is your best Get Well Soon Tour story?
We brought Maroon 5 to a hospital in Baltimore and the band brought a ukelele to play as they sang to the kids. After the performance one of the children was talking to a band member about how he played ukelele and started playing. The band member then gave him the ukelele and the look on his face was priceless 🙂
Why did you decide to go on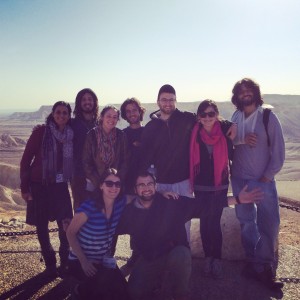 an Israel Outdoors trip?
I wanted to experience Israel with a group of people that were my age. I was excited to see the entire country and get a real feel for not only the places and the history, but also the people and what living in Israel meant.
What was your favorite part of your Israel Outdoors trip?
My favorite activity of the trip was spending time with the Israelis, guides, and other participants of the the trip discussing what it is like to live in Israel and what Israel means to each different person. It was an unbelievable experience and I feel fortunate to have been able to tour such an awesome country and meet so many amazing people.