Here at Israel Outdoors we are always interested in finding out more about our participants and learning about the interesting things that they do. Jackson B. was just on a free Taglit-Birthright Israel trip with Israel Outdoors in December, and tells us about raising money for the Alzheimer's Association with Hilarity for Charity.  Thanks for sharing Jackson!
Where are you from?
I was born and raised in Eugene, Oregon, not more than a couple miles from the University of Oregon campus.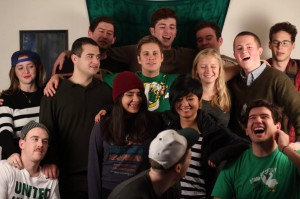 Where do you live currently?
I live in Eugene and am a senior at the University of Oregon studying finance, economics, and Spanish.
What is Hilarity for Charity?
Hilarity for Charity is a fundraising campaign started by Seth Rogen to help raise money for the Alzheimer's Association. He started the campaign when his wife's mother was diagnosed with Alzheimer's. Colleges across the country are competing to raise the most money for Hilarity for Charity (HFC) and the winning school gets to meet Seth Rogen and have a screening of Superbad with him at their university.
How did you become involved with Hilarity for Charity?
During my sophomore year of college, my roommate from freshman year decided to start a Stand Up Comedy club at UO. I immediately joined and we worked our way up from just a handful of people to now nearly 100 people on the official Facebook group and anywhere from 20-25 people who consistently come to weekly meetings. I was studying abroad last year in Spain when we did Hilarity for Charity last year, but our group decided to raise money and participate in HFC again this year.
What is your favorite Hilarity for Charity story?
I don't know if there is one story in particular, the entire process is so rewarding. But it was a ton of fun to film our HFC PSA video: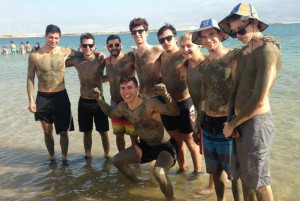 Why did you decide to go on an Israel Outdoors trip?
I went on an Israel Outdoors trip based on the recommendations of friends mostly, but I heard about Taglit Birthright several years back and was always interested in going on a trip.
What was your favorite part of your Israel Outdoors trip?
I absolutely loved staying in the Bedouin tents in the Negev desert. I love the camel ride and the stargazing night hike through the desert, also meeting and connecting with people in other groups from throughout the country.
Anything else we should know about you?
I'm glad I can help raise money for Alzheimer's awareness by doing something that I love: stand up comedy. We are having a show, possibly more than one, in early spring term, so around the beginning of April, that will be the main source of fundraising, tickets are $10. Please help us by donating.