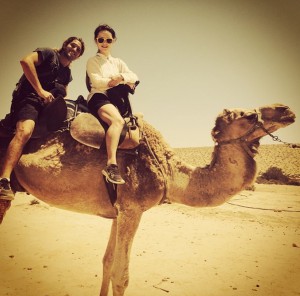 Alexandra "Sasha" Cohen visited Israel on Taglit-Birthright Israel with Israel Outdoors, where she was known to her Taglit friends as Alex. They never suspected that she is an accomplished figure skater and Olympic silver medalist who was cheered on the ice by thousands.
"I have always wanted to come to Israel," Cohen said about her Israel Outdoors experience. "It was a dream of mine for years. I promised myself that I would visit when I had time. My sister participated in Taglit several years ago and she couldn't stop talking about it, and I couldn't stop thinking about it. I believe that every Jew has to know his past in order to live his future."
Cohen explained why she did not tell her fellow participants about her skating history, saying the trip was "an integral part of my beginning as a private individual, not an athlete." 
Cohen is now excelling in her international relations studies at Columbia University, works in finance at Morgan Stanley, and has a successful figure skating clothing line. To learn more about her experiences in Israel, read this newspaper article by Israel Hayom.