Here at Israel Outdoors we love to hear about what our alumni are up to. Zak R. participated in a free Birthright Israel trip with Israel Outdoors this past October. He also is a professional actor.

Where are you from?
Originally upstate New York, but I grew up in Richmond, Virginia.
Where do you live currently?
New York City, West Village.
What do you do for a living?
I'm mostly a full-time actor. I'm also a musician and occasional model…whatever it takes to pay the bills!

How long have you been acting?
I've been acting professionally since I was nine, but my parents put me in acting school when I was five. For better or worse, it's pretty much all I know.
Tell us about some of your acting accomplishments.
I played Sky (the fiancé) in "Mamma Mia!" on Broadway for almost 2 years, followed by the title character in "Piece of My Heart: The Bert Berns Story" at the Signature Theatre in Times Square, and just 2 weeks ago closed a production of "Once Upon a Mattress" with Transport Group Theatre Company, Off-Broadway.
What is your favorite acting story?
I took a redeye back from my Birthright trip this past October in order to be at my first rehearsal for "Once Upon a Mattress" in time. I landed at JFK at 7:30 AM, and my first rehearsal began 2.5 hours later. I had so many cups of coffee that day.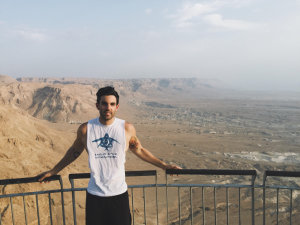 Why did you decide to go on an Israel Outdoors trip?
I like staying active, and it seemed like a fun way to see Israel. Is that a lame answer? I feel like that's a lame answer. Oh well.

What was your favorite part of your Israel Outdoors Trip?
My Birthright group split up into smaller groups for some fun activities at night and somehow we always got picked to rewrite the lyrics of well-known songs into something having to do with Israel or Birthright or being Jewish. They were (mostly) pretty funny, if I do say so myself.
Anything else we should know about you?
You can see all my Birthright photos on my Instagram – @zakresnick