Israel Outdoors is proud to have some of the best Israeli tour guides that Israel has to offer. We asked tour guide Shakked Be'ery to tell us a little more about herself.  See below for more information about Shakked and don't forget to check out the rest of our fantastic tour guides and our Israel Outdoors team!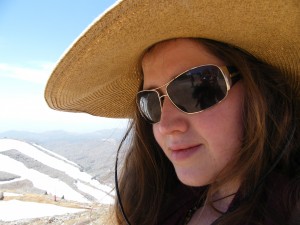 Where are you from?
Tel Aviv, Israel.
Where do you live currently?
Jerusalem, Israel.
What did you do before you became a tour guide?
Before I became a tour guide I was a guide and counselor at a pre-military school.
How many Israel Outdoors trips have you guided so far?
More then I can count!
What was your absolute favorite moment/experience while guiding an Israel Outdoors trip?
I love sitting on the grass in a park on a shabbat afternoon, talking with my participants.
Is there a site that you just can't get enough of?
Definitely the ancient ruins of Tzippori.
Favorite thing to do when not on a trip (Hobbies? Vices? Favorite TV shows? etc.)?
I love to dance!  My specialty is the Lindy-Hop