Israel Outdoors is proud to have some of the best Israeli tour guides that Israel has to offer. We asked tour guide Batsheva Miller to tell us a little more about herself.  See below for more information about Batsheva and don't forget to check out the rest of our fantastic tour guides and our Israel Outdoors team!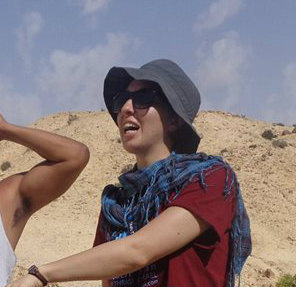 Where are you from?
Haifa, Israel.
Where do you live currently?
I'm currently living in Bat Galim, a seaside neighborhood of Haifa.
What did you do before you became a tour guide?
After finishing my army service I spent a year working in security at the Haifa port passenger terminal. Later, while I was studying for my tour guide license I worked part time as a saleswoman in an outdoor and hiking equipment store.
How many Israel Outdoors trips have you guided so far?
I've done 4 trips so far and am looking forward to many more great adventures
What was your absolute favorite moment/experience while guiding an Israel Outdoors trip?
This summer I had the pleasure of taking part in a Havdala (end of the Shabbat) ceremony, overlooking the sunset on the beautiful city of Jerusalem. We stood on the Bridge of Strings at the entrance to the city, singing, dancing, wishing each other happiness and joy and welcoming the beginning of a new week. Some bystanders who walked by joined in our little celebration, adding a real Israeli feel and flavor to the festivity.
Is there a site that you just can't get enough of?
I find the Ramon Crater to be a place that I return to over and over, never getting bored or used to its marvelous vistas. It is not often that one can stand on a precipice in total silence looking towards a vast landscape that holds millions of years of natural history and hundreds of years of human history. To me it is breath taking and awe -inspiring.
What is your pet peeve on a trip?
By the time I've learned everybody's name perfectly and get a chance to talk to all of the participants, the trip is over and it's time to say goodbye
Favorite thing to do when not on a trip (Hobbies? Vices? Favorite TV shows? etc.)?
I'm currently studying for my Bachelor's in social work so much of my time is dedicated to my school work. When I have the opportunity I like to spend time with my friends, go to the beach, explore and discover new places in Israel.