Before going on an Israel Outdoors trip in January 2013, Brooke S. had many questions regarding the religious nature of the country, how secure she would feel, and what types of food she would eat. Ultimately she "gained a whole new perspective about Judaism as a culture and as a religion."
"Most importantly, I learned what Israel was truly like for myself instead of relying on the news and media to tell me what it was like," Brooke reflected. "Going to a country and experiencing it for yourself is a whole lot different than only seeing pictures and reading about it. Israel blew all of my expectations of it in a very good way."
Read her full blog post below: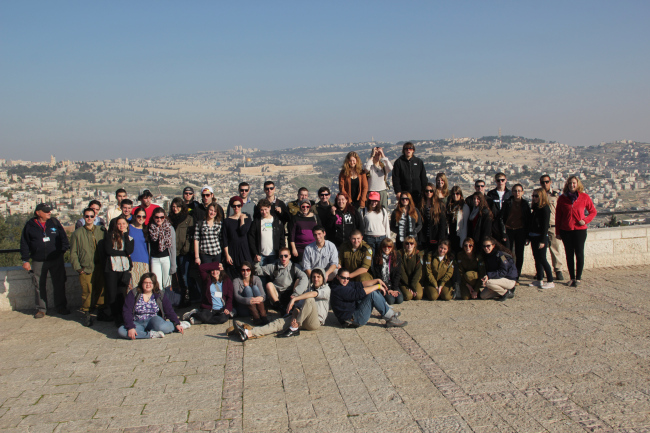 The year 2013 has been very exciting for me. From January 1st  through January 10th, I was in Israel. Since I am Jewish, I was given this opportunity. If I do say so myself, it is pretty awesome being Jewish because you are given the chance to travel to Israel with Taglit-Birthright Israel for 10 days, all expenses paid, if you are between the ages of 18 and 26. I decided that I wanted to take advantage of this opportunity.
There were tons of trip organizers to choose from. They ranged from religious trips, sorority and fraternity trips, location-based trips, and so on. I found the perfect trip coordinator. It was called Israel Outdoors. The trip had a variety of different activities ranging from hikes to cultural events. I signed up for the trip in September and waited. I was accepted for the trip in the end of October.
I had many expectations and worries about what this trip was going to be like. My most prevalent worry about the trip was that it was going to be very religious based. As someone who identifies as more culturally Jewish rather than religiously Jewish, I worried that I would be an outcast among a sea of very religious Jewish young adults. However that was not the case at all. There were people from all walks of Judaism from our group of 40 people. Most of the people on my trip were from New York City while the others were from New Jersey, California, Arizona, Pennsylvania, Maryland, Kentucky, and Florida. Some were like me, very culturally Jewish and not religious at all. Others were both culturally and religiously Jewish. My tour guides, leaders, and speakers never once tried to shove religion down our throats but instead taught us about what it means to be a Jew in Israel. It was highly informative and educational for me being around a lot of Jewish people since I grew up in a part of the country where there are not many other Jewish people. It also made me very happy because I never once felt judged on the trip for my beliefs.
Another expectation of Israel I had from the news was that it would be a war zone. I imagined hearing guns and bombs being blown up in the distance and fighter planes flying over my head. We had a woman medic/guard who was my age stay with us the whole trip. On top of that we also had 8 Israeli soldiers travel with us for five days of the trip so we could meet and mingle with Israelis our age. I learned so much about the IDF and it put a lot into prospective for me about what it would be like serving in their military. The soldiers were all around my age. I even met a girl that got to drive a Hummer and tanks. Surprisingly to me, I felt incredibly safe. We traveled to a good bit to a number of different places around the small country and I never once felt scared.
The terrain of Israel was a huge surprise to me as well. Oddly enough, I never once looked up pictures of Israel before I left for the trip. I assumed since it was in the Middle East that it would basically be one big flat dessert. Boy was I wrong. For a state about the size of New Jersey, to put things in to perspective, Israel had an incredibly diverse terrain. One of the hardest things the first few days of the trip was adapting to the different altitude levels when we were driving. Lots of us experienced nausea and popping ears because we were practically driving up and down large mountains. We also visited the Dead Sea one day, which is the lowest point on earth. We visited major cities too such as Jerusalem, Tel Aviv, and Tsfat to name a few. The cities in Israel were so different back home because either they were very old or were very modern. 
As far as food went, I had no idea what to expect. I had never been exposed to Israeli food before. The Israelis eat an incredibly healthy Mediterranean and kosher-based diet. It took some getting use to because it is much healthier than the typical American diet. For one, there is barely any cheese in their diet. In the McDonalds I went in the one day over there, there was no cheese on the hamburger I had because it is not kosher to have cheese on meat. We also ate salads for breakfast made out of vegetables I had before. Dessert also was served at breakfast and at no other meal throughout the day and it was very light. We also ate lots of fruits that is not very readily available in the states (such as pomegranate which I loved). Between all the hiking and healthy eating on the trip, I saw to my surprise I lost five pounds when I returned home.
Overall my trip was absolutely without a doubt the best experience of my life. I made new friends both with Israelis and with people throughout our country on the trip that I will have for life. I gained a whole new perspective about Judaism as a culture and a religion. Most importantly, I learned what Israel was truly like for myself instead of relying on the news and media to tell me what it was like. Going to a country and experiencing it for yourself is a whole lot different than only seeing pictures and reading about it. Israel blew all of my expectations of it in a very good way. I recommend to every young Jewish adult to take advantage of this wonderful trip and go on it.